Look at a picture and smile
Hi friends, today I present a painting that is in the museum of fine arts of my city.
As you know, I live in Bilbao, Basque Country, Spain
On this occasion I present to Burlesque Feast
MANDIJN (or Mandyn), Jan
(Haarlem, The Netherlands, 1502-Antwerp, Belgium, 1560)
Burlesque feast
Oil on oak table
98.5 x 147 cm
c. 1550
Renaissance and Mannerism (16th century - early 17th century)
Legacy of Don Laureano de Jado in 1927
Well the story can be found on Google
But I like to tell what I see and feel.
But looking at it caught my attention.
So funny and weird.
So critical for those times.
***
Mira un cuadro y sonríe
Hola amigos hoy os presento un cuadro que hay en el museo de bellas artes de mi ciudad.
Como sabéis vivo en Bilbao, País vasco, España
En esta ocasión os presento a Festín burlesco
MANDIJN (o Mandyn), Jan
(Haarlem, Países Bajos, 1502-Amberes, Bélgica, 1560)
Festín burlesco
Óleo sobre tabla de roble
98,5 x 147 cm
c. 1550
Renacimiento y Manierismo (s. XVI - comienzos s. XVII)
Legado de don Laureano de Jado en 1927
Bueno la historia la podéis encontrar en Google
Pero a mí me gusta contar lo que veo y siento.
Mas mirarlo capto mi atención.
Tan divertido y raro.
Tan crítico para aquellos tiempos.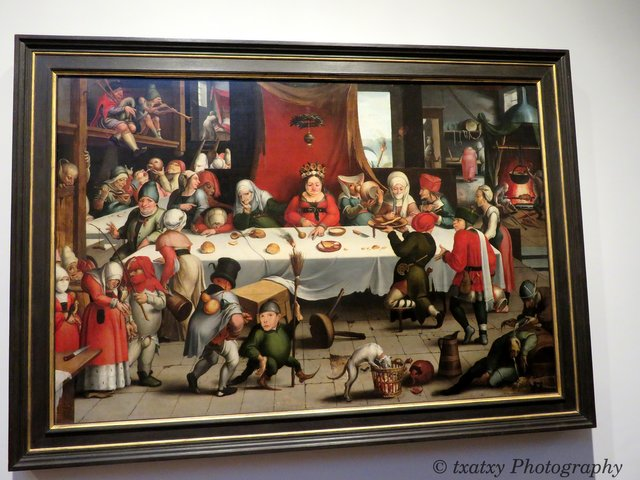 The Peasant Wedding
Full of characters each more grotesque and attractive.
We see the bride.
With the face of a drinker, even his nose says it with red and fat veins.
His head crowned with wooden spoons like a kitchen queen.
The feathers of some pheasant come out of his hair.
No smile seems forced to be sitting there.
***
La boda Campesina.
Llena de personajes cada cual más grotesco y atractivo.
Vemos a la novia.
Con cara de bebedora, hasta su nariz lo dice con venas roja y gorda.
Su cabeza coronada con cucharas de madera como una reina de la cocina.
Las plumas de algún faisán le salen del pelo.
No tiene sonrisa parece obligada a estar hay sentada.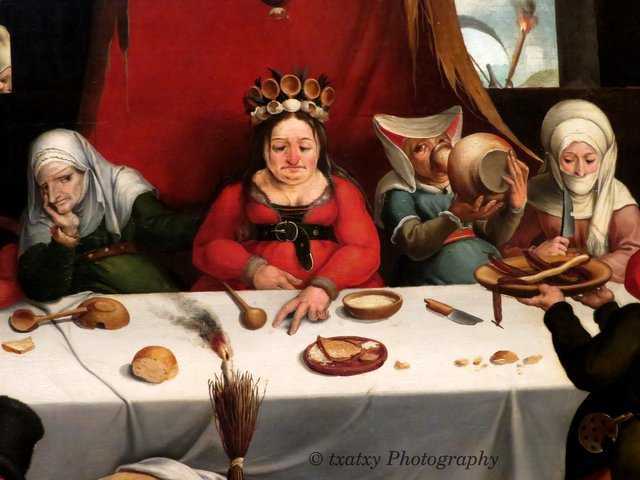 At the bottom of the box on the left we can see the plebs.
Getting drunk at pleasure.
A friar hidden among the woods, as if he were penitent or his body could not hold more wine.
The same was the boyfriend hehe
We see the musicians, beings a little deformed with the bagpipes and the flute.
We also see the four-poster bed and how a servant prepares it with white sheets and crimson bedspread for the nuptial night.
***
En el fondo del cuadro a mano izquierda podemos ver a la plebe.
Emborrachándose a placer.
Un fraile escondido entre las maderas, como si estaría de penitencia o su cuerpo no aguantara más vino.
Igual era el novio jeje
Vemos a los músicos, seres un poco deformes con la gaita y la flauta.
También vemos la cama con dosel y como una sirvienta la prepara con sábanas blancas y colcha carmesí para la noche nupcial.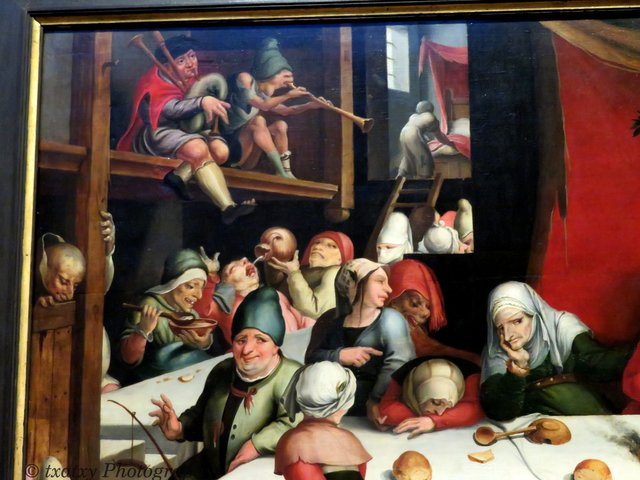 On the right we see the kitchen, with the roast browning.
And on the floor a guest who reached the limit and had no shame in expelling the drink in front of everyone.
Cantaros and broken chairs, even a dog eating from the garbage.
***
En la derecha vemos la cocina, con el asado dorándose.
Y en el suelo un invitado que llego al límite y no tuvo pudor en expulsar la bebida delante de todos.
Cantaros y sillas rotas, hasta un perro comiendo de la basura.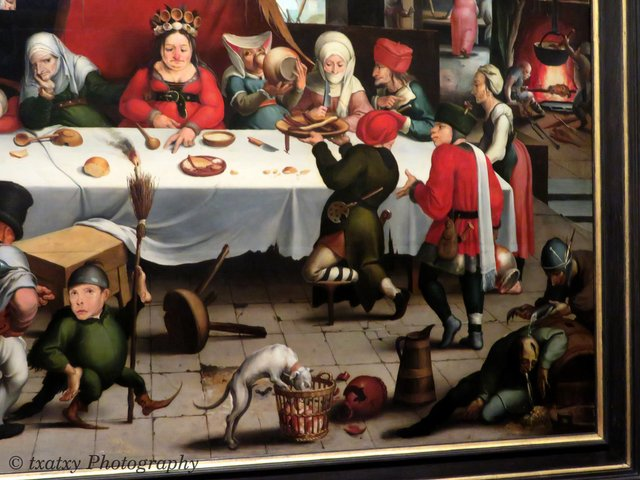 People are very strange and even deformed in a grotesque environment.
***
Las personas son muy extrañas y hasta deformadas en un ambiente grotesco.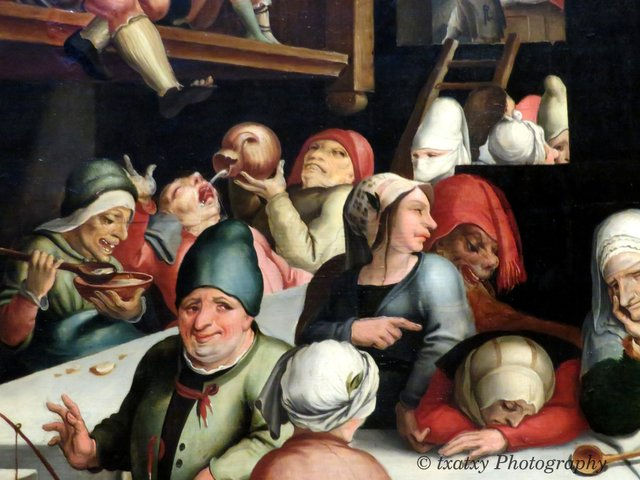 The chorizo hanging from a cane, the woman with an owl
All strange beings for our time.
But I get more than a smile.
He entertained me a good time and he left me a good taste.
I do not speak of quality, nor of strokes and color.
I speak of feelings
I hope you have fun like me seeing an old painting.
***
El chorizo colgado de una caña, la mujer con un búho
Todos seres extraños para nuestra época.
Pero a mí me saco más de una sonrisa.
Me entretuvo un buen rato y me dejo un buen gusto.
Yo no hablo de calidad, ni de trazos y color.
Hablo de sentimientos
Espero que te hayas divertido como yo viendo una vieja pintura.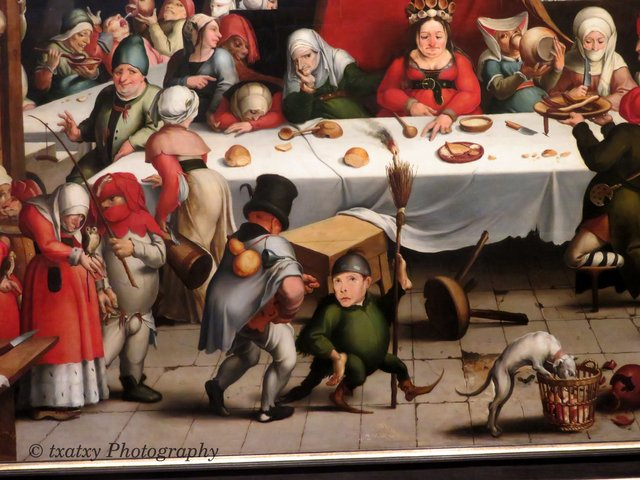 Original content by Original content by @txatxy***

---





[//]:# (!steemitworldmap 43.271066 lat -2.933393 long Look at a picture and smile/Mira un cuadro y sonríe d3scr)