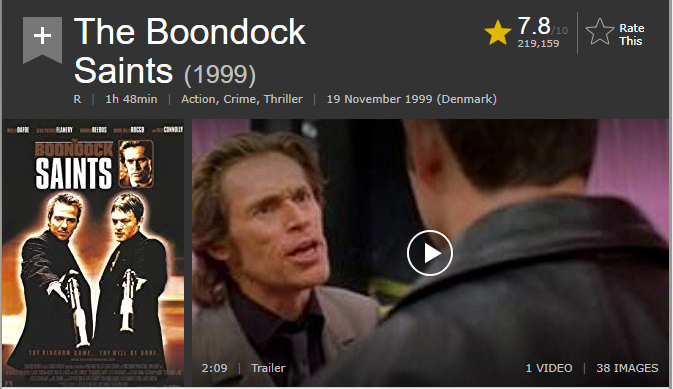 Two Irish Catholic brothers become vigilantes and wipe out Boston's criminal underworld in the name of God.
- IMDb
This is one of those movies that caught me by surprise. The Boondock Saints was released in 1999 before Normal Reedus became a living legend in The Walking Dead.
Two religious brothers are fed up with organized crime in Boston and decide to handle it on their own. Not being particularly skilled, what follows is sloppy and chaotic vigilante justice.
The movie follows Connor & Murphy MacManus as they dish out their own justice. While the movie is described as an Action, Crime, and Thriller, some scenes had me laughing my ass off.
The brothers accidentally kill mafia thugs who try to pressure a local establishment they frequent. Being upstanding Christian citizens, they turn themselves in and are quickly released without charges. The MacManus brothers feel this is a sign from God and decide to seek out organized crime members and take them out.
This movie is filled with action and violence and no effort was made to tone down these scenes. The movie is rated R and it earns this rating in spades. This movie was built on grit and blood.
I found myself quickly becoming sympathetic and rooting for the MacManus brothers as they delivered justice in a poetic style.
William Dafoe plays a famous FBI Special Agent called in to investigate the string of murders. William Dafoe has given performances that leave you in awe, but this one is like no other. William Dafoe plays a gay FBI agent with an uncanny awareness of crime scene investigation. Interestingly, both Robert De Niro and Kevin Spacey were considered for this role. I can't imagine anyone else playing the role of Special Agent Smecker.
While the story behind this movie is fantastic, what really makes the movie shine is the raw grit in the shoot out scenes. Make no mistake, there is a lot of shoot out scenes in this 1-hour and 48-minute movie.
While the movie has a 7.8/10 score on IMDb, it has a measly 22% on Rotten Tomatoes.
A juvenile, ugly movie that represents the worst tendencies of directors channeling Tarantino.
- Rotten Tomatoes
While I usually put more stock in Rotten Tomatoes rating than IMDb, they got this one wrong. If I was going to rate it myself, I would put it right around the 7.8 IMDb score given.
Billy Connolly makes an epic appearance in the last half of the movie and kills it playing the role of a legendary hitman sentenced to life in prison. After the MacManus brothers take out key players in the local Mafia, they call in Ii Duce to take them out. Ii Duce has never failed to take out his mark.
The Boondock Saints is a light-hearted action movie based on two antiheroes that you can't help but root for. This movie will keep you on your toes all the way up to the ending credits.
All images are from IMBd unless sourced