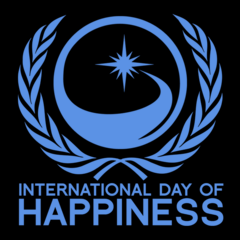 Image and content source credit: wikipedia
According to Wikipedia "The International Day of Happiness is celebrated worldwide every March 20 and was conceptualized and founded by philanthropist, activist, statesman, and prominent United Nations special advisor Jayme Illien to inspire, mobilize, and advance the global happiness movement"
The international day of happiness is celebrated annually since March 20, 2013.
Who doesn't want to be happy? Everybody wants to be happy. It doesn't matter who we are, what we are or where we are.
On this day of happiness, we have to ask ourselves, are we really happy?
When you think about it the real happiness comes from within. It is all about our mindset and belief system that makes us a happy or unhappy person.
If you feel unhappy all you have to do is look within and take care of our mindset and belief system to make us happy again.
If you need any help with your mindset and belief system this may help: http://www.powerlawofattraction.com/forum/index.php?topic=12916.0