Today I want to talk about a big subject, one that everyone seems to struggle with and it's called work-life balance. The first thing to understand about work-life balance is that most people have the wrong idea of what that actually means. They think that their whole life should be balanced. They think that they should have a little bit of work and a little bit of play and a little bit of time on the weekends in order to improve the quality of their lives.
When thinking about the quality of your life you have to ask yourself; What do you really want to do with your life? It's a great question.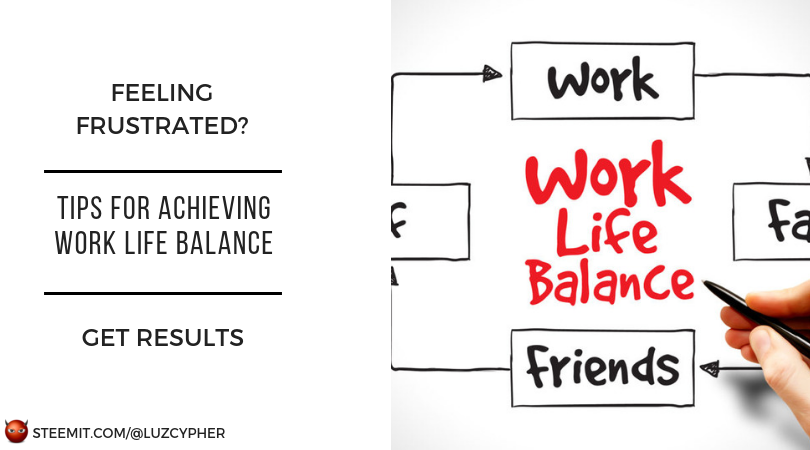 If the answer is that you want to be really successful in your career then you have to start a little earlier, you have to work a little harder, and you have to work a little later.
Here's an interesting discovery. Almost all really successful people work six days a week. Average people work 40, maybe even 30-hours. Poor people work 20 or 10 or no hours at all.
Now, aside from actual time spent at work, the real problem comes down to what you accomplish while you're at work. It's astonishing but most people spend 50% of their time, according to the statistics of time and motion videotaped of workplaces, doing non-work related activities while they're in the office or at their place of work. They engage in things like social media and checking email.
By the way, social media and checking email are up to about 3 1/2 hours a day for the average working person today. They take long lunch breaks. They kind of fudge; they have 60 minutes for lunch but they take 80. About 37% of the average day is spent chatting with co-workers on subjects that have nothing to do with the work.
These are all examples of time wasting behaviors that people actually slip into mostly unconsciously. If you ask people if they waste a lot of time at work they will say absolutely not, believing they work hard all day long. But when workers are actually videotaped at work and shown the videos they invariably are shocked at how much time they waste. Researchers call this invisible time wastage, as far as the person is concerned it's invisible.
People get into the habit of this sort of thing making it hard to get all their work done and have time to focus on the other aspects of their lives.
Here's the key to achieving work-life balance.
Choose To Manage Your Time
Choosing to manage your time effectively is the starting point of overcoming the previous programming and eliminating mental blocks to time management. You must decide right here and now to become an expert in time management in order to improve your quality of life.
Your aim should be to manage your time so well that people admire you and look to you ass a role model for their own work habits. Think about that.
Here are 4 tips for time management that will help you to achieve a work-life balance and improve the quality of your life.
Use the power of positive affirmations
Positive affirmations are what they call positive self-talk, commands that you pass from your conscious mind to your subconscious mind that you either say out loud or say to yourself with emotion and enthusiasm to drive the words into your subconscious mind sort of like a pile driver.
Think of it as instructing yourself to follow new operating instructions.
Begin by repeating positive affirmations over and over to yourself, such as, I am excellent at time management. I am excellent at time management., or I already have a balanced work and life. My favorite time management affirmation is * I use my time well. I use my time well. I use my time well.* Just say that over and over.
When you repeat positive affirmations over and over they are eventually accepted by your subconscious mind as commands just like like you've programmed it into a computer. You'll then find that your external behaviors will start to reflect your internal programming. As within, so without.
Visualize your time management skills
Mental pictures almost immediately influence your subconscious mind, so, begin to see yourself as well organized, efficient and effective in time management. Mentally fake it before you make it.
Recall and recreate memories and pictures of yourself when you were performing at your best and getting through enormous amounts of work. Through positive affirmations, you can create a picture of the upcoming event and see it unfolding perfectly in every respect.
See yourself as calm, positive, happy, and in complete control. See the other people doing and saying exactly what you would want them to do and say if the situation was perfect. Play this picture of yourself over and over again on the screen of your mind.
Take action based on your visualizations
Now that you've concentrated on visualizing what your day and your future will look like with proper time management it's time for you to put into action. You do this by working the entire time you're at work.
When you walk into the office you should work the entire time you're there. Be pleasant and friendly to your co-workers but get to work right away and work until you're finished. If you spend more than 10% of your time socializing your time is out of control.
By going straight to work you'll get on top of your work and will walk away feeling accomplished at the end of your day. When you don't have lingering tasks to worry about, since you've worked as hard as you could during your time in the office, you'll be left with plenty of quality time to spend with your friends and family after work.
Before we wrap up I'd like to leave you with a thought;
There are no shortcuts. To be a big success, start a little earlier, work a little harder, stay a little later.
I hope these strategies help you achieve work-life balance in your life.
---