My heart is torn. Not between people, but objects of desire, and ones that I've placed a more humane persona than some people would consider. It might sound unhealthy to you, but it's just important to me as choosing between two women, both of which I love with all my heart. Who do I choose?
On the one hand, I love the fiery flair and romanticism that's exhibited with Italian cars, and on the other, I also love the graceful elegance and sophistication with British automobiles. It's a battle of passion that has split my heart in two, and it's still raging inside of me. As I've been locked in my quarters all day now, it's gotten worse.
Credits to: Aston Martin (Valkyrie)
Today, I could be binge watching videos of Maseratis and Ferraris on YouTube, and tomorrow, I might just spend half the day on Aston Martin's Configurator - specifying all the little details of a DB11 AMR that I dream of owning. Just as when I decided on giving love to the Italians, Aston has caught my attention once more. I think this time, they got me for good.
The Valkyrie has already made a reputation for itself, not least by it's great name - despite having not yet gone into production. It may be conceived in an era of eco-consciousness, but nothing is economical or tame about its engine. It's even got a little brother, the aptly named Valhalla, a more "toned-down " Valkyrie. It previews beauty in the simplest forms, and a new era for Aston Martin.
---
---
The Mothership Has Landed.
The Valkyrie can be described as a prehistoric dreadnought. This is what happens when you try to transplant old-age tech, with the most modern F1-inspired technology, and put all of that into a road car. While that may not sound complementary, the end result is nothing short of breathtaking. After being teased for some time now, we're finally seeing the Valkyrie on public roads.
Undergoing crucial testing before reaching production, it's interesting to see such a wild car driving along a common, rather uninteresting backdrop of the roads around Silverstone. Comparing it to other road cars, it makes the Valkyrie look more alien. Pictured here is the "regular " Valkyrie, and not the even madder AMR Pro variant. Only 150 Valkyries will be made in total, with 25 more being the AMR Pros.
Credits to: Aston Martin (Valkyrie Road Testing)
With ever tightening emissions and sound regulations, this could very well be the swansong of naturally-aspirated V12s, so I hope to see more on the road soon. While the aerodynamic features of the Valkyrie are something to admire from afar, it's the internals that quantify how magnificent it really is. Relative to the rest of the Valkyrie's sci-fi tech, showing off the best that automotive technology has evolved to - the engine is quite a dinosaur.
The Valkyrie has a 6.5L naturally-aspirated V12 engine, one that was built by British-based engineer, Cosworth. Combined with some hybrid tech from Rimac, the electrification will help boost the engine to produce more than 1000hp, and most importantly, it'll rev up to 11,000RPM. This will no doubt give you the same eargasm that might be felt when sitting in the pitlanes, hearing old F1 cars roar by.
Credits to: Aston Martin (Valkyrie Road Testing)
Not to mention, the AMR Pro will have more power, with even more aerodynamic changes. The best part is, that unlike other high-revving engines, like Mercedes-AMG's Project One, the Valkyrie's engine has been engineered to be more reliable and require less servicing, though it'll still need a rebuild every 100,000 kilometres. I'm excited to be seeing these on the road soon, though I expect that to be a rare, and treasured moment.
---
---
Big-Game Hunting.
On the opposite end of the scale, Aston Martin is also developing their smallest engine in recent history. To be placed in the Valhalla, so called because in Norse mythology, Valkyries carry wounded Viking warriors to Valhalla - this new engine has half the cylinders. Downsizing, yes - but it's a lot more exciting than it sounds, and it's also significant to Aston Martin moving forward.
This new hybrid-assisted, twin-turbocharged V6 will be the first engine to have been designed fully in-house by Aston Martin since 1968. Since then, Aston's engines have been shared from other companies - such as their glorious naturally-aspirated V12, which was derived from combining two Ford V6s, back when Aston was under American ownership.
Credits to: Aston Martin (Valhalla Twin-Turbo, Hybrid V6)
In the future, this new V6 will replace the AMG V8s that power their current crop of cars, and will sit alongside the company's flagship 5.2L twin-turbo V12. Just as with the Valhalla's larger sibling, it was designed in collaboration with Red Bull Racing. First codenamed the AM-RB 003, the Valhalla will be limited to 500 units, which will rival Ferrari's new SF90 Stradale, and we'll start seeing them on the roads around 2021 or 2022.
Back to the engine, it has been codenamed TM001, after Tadek Marek, a brilliant Polish engineer that worked for Aston Martin from the early 1950s to the late 1960s. His craft helped to power some of Aston's most iconic cars - with the straight-six engine in the DBR2, DB4, DB5, DB6, and DBS; or the V8 which ran in Aston's lineup for five decades, before being retired in 2000. Now, this new V6 is a tribute to Marek's ingenuity, and will set to carry his legacy into the future.
Credits to: Aston Martin (Valhalla Twin-Turbo, Hybrid V6)
It'll be a 3.0L twin-turbocharged V6, with a "Hot V " configuration, meaning that the turbochargers sit in the "V", between the cylinder banks. Similar to what AMG employs on the 4.0L twin-turbo V8s - it spools up faster, giving you less lag, and it'll also be more compact. Aston Martin's engineers have made this engine weigh only 200kg.
Combined with a dry-sump lubrication system, this also allows the engine to sit low, giving it a lower centre of gravity. Power and torque figures haven't yet been announced, but Aston claims this to be their most powerful engine in its production range, while still meeting Euro 7 emissions. Very impressive engineering, indeed!
Credits to: Aston Martin (Valhalla Twin-Turbo, Hybrid V6)
To put it into perspective, Alfa Romeo's 2.9L twin-turbo V6 can easily make over 500hp, without any hybrid tech in it; while Aston Martin's own DBS Superleggera, with its 5.2L twin-turbo V12, makes about 715hp. With this new engine, Aston will also be experimenting with the use of direct, and plug-in hybrid technology. If anything, this should dispel the notion that down-sizing engines are bad.
---
---
Second Century.
Even though they've been around for 117 years, just as old as famed Italian marque, Maserati - James Bond's favourite carmaker hasn't had an easy history. Throughout its history, they've flirted with bankruptcy seven times, and they've only managed to emerge from the ashes in recent memory. Going from strength to strength, the Valkyrie and the Valhalla are two examples of why the brand's revival has barely reached its peak.
While Covid-19 has thrown a wrench into things, it hasn't stopped Aston Martin. Their new factory in Saint Athan, Wales will soon be ready to roll out the lovely DBX SUV, the company's first, and a potential moneymaker. Just as Jay Leno puts it well, Aston Martin is the most sensual of car brands, and I think it's getting to me. So, if you're a certified expert on romance, please help.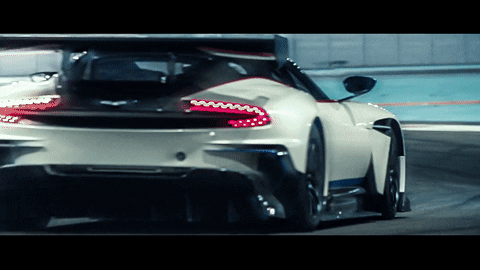 ---
---
Thanks for reading, and stay safe! For more updates on my blogs, or the more minute things in life, feel free to follow me on Twitter and LinkedIn, and maybe give a shout there as well!
While you're at it, follow along @zacknorman97 for more, coming soon :-)